After months of figuring out details, the Board of the PEBA is proud to announce a new level of rookie-league baseball coming to the PEBA. With concerns over younger drafted players, games played, and various other factors sprouting up since PEBA's second win, we wanted to enact these changes for the upcoming offseason. While there are some significant changes, we as a board always didn't want to immediately go all-in and would rather get the foundation set up now and tweak where necessary in the future. Huge shout-out to RJ, Reg, and Mike for putting up with me pestering them for the past few weeks about approving the proposal and lending their opinions

. And also, thank you to EVERYONE who participated in the many discussions we had on slack and the forums as everything said was reviewed and taken into mind when making these decisions. I look forward to seeing what all of you come up with heading into 2030.
Officially announcing the
Intercontinental Baseball Coalition (IBC)
, a rookie league like no other.
1. The League
Each of the 28 PEBA franchises will get 1 rookie-level team in 1 of 4 divisions. These divisions will be unique in that they will play ONLY within their division for the entirety of the regular season. This means there will be 2 divisions of 8 and 2 divisions of 6 for a total of 28 teams. This regular season will be short season similar to our current iteration of short-season A. Once playoffs arrive, the top 2 teams from each division will face off in a normal playoff structure with best-of-5 series against teams from other divisions. The scheduling idea was done to keep things as realistic as possible for the very unique locations we have decided on.
2. Location, Location, Location
After plenty of discussion around WHERE these new leagues should be, we came up with a few fun and realistic selections. Each GM will have a choice of which division they want to be in, first come first serve. The first two leagues to fill up will be the 8-team leagues leaving the last two to be the 6-team leagues. If selecting a major city, try to select a neighborhood or ward of that city instead of claiming it all to yourself. Multiple teams may select neighborhoods in major cities for an inner-city rivalry if they choose. All locations must be approved by the board but you are free to go out and find whichever location you want within reason.
Now to the divisions.
The Hanguk League - South Korea
Possible locations include:
Districts of Seoul
Busan
Gwangju
Incheon
Jeju City
Daegu
Daejeon
Suwon
Changwon
Goyang
Cheongju
Muju - Taken by TOY
and many more...
The Tasman League - New Zealand and the east coast of Australia
Possible locations include:
Melbourne, AUS
Sydney, AUS
Newcastle, AUS
Brisbane, AUS
Christchurch, NZ
Wellington, NZ
Auckland, NZ
Canberra, AUS
Gold Coast, AUS
Hobart, Tasmania
Dunedin, NZ
Tauranga, NZ
and many more...
The Red Sea League - Eastern Africa from Egypt to Somalia
Possible locations include:
Cairo
Mogadishu - Taken by CL
Djibouti
Alexandria
Khartoum
Addis Ababa
Port Sudan
and many more...
The Paradise League - Islands North of Venezuela & Caribbean
(Excluding current PEBA cities)
Possible locations include:
Anguilla
Trinidad and Tobago
Grenada
Barbados
St. Lucia
Guadeloupe
Virgin Islands
and many more...
3. Mascot, Stadium, Logo, etc
All team details must be sent to Mike or Dylan for approval though you generally have free reign on what you want to do. You have the option of making a logo, jersey, cap for yourself or you can ask the board to provide one for you. Stadium factors may not match any of your current stadiums. All stadiums will start with 5,000 seats. It's advised that you use the ballpark generator found here:
http://www.ootputilities.com/parkgen/
4. Age Restriction/Roster Size Changes
This new Rookie league is meant for high school draftees who are not yet ready to compete with their college counterparts. Therefore, there will be some slight age restriction and roster limit changes.
- Short Season A: 27 player limit (down from 35) ages 23 and below.
- Rookie League: 35 player limit, ages 20 and below.
5. Short Season A Schedule Changes
With us adding a rookie league, we wanted to adjust the number of games played in SS-A. Short Season A teams will now play an additional 20 games which will be added BEFORE the draft bringing the season total to 110 games which is much closer to our single A schedule (128). This number could be adjusted in future seasons so consider this us testing additional games.
6. Draft/Feeder Changes
With a whole new level of baseball, new players will be needed. Therefore, our annual PEBA draft will be bumped up to 20 rounds. Something else that was brought up in this process was the severe lack of high school players compared to college players. No more. We are announcing the expansion of the IHS and US HS feeder leagues to fit an additional 16 new teams. The breakdown can be found in this image: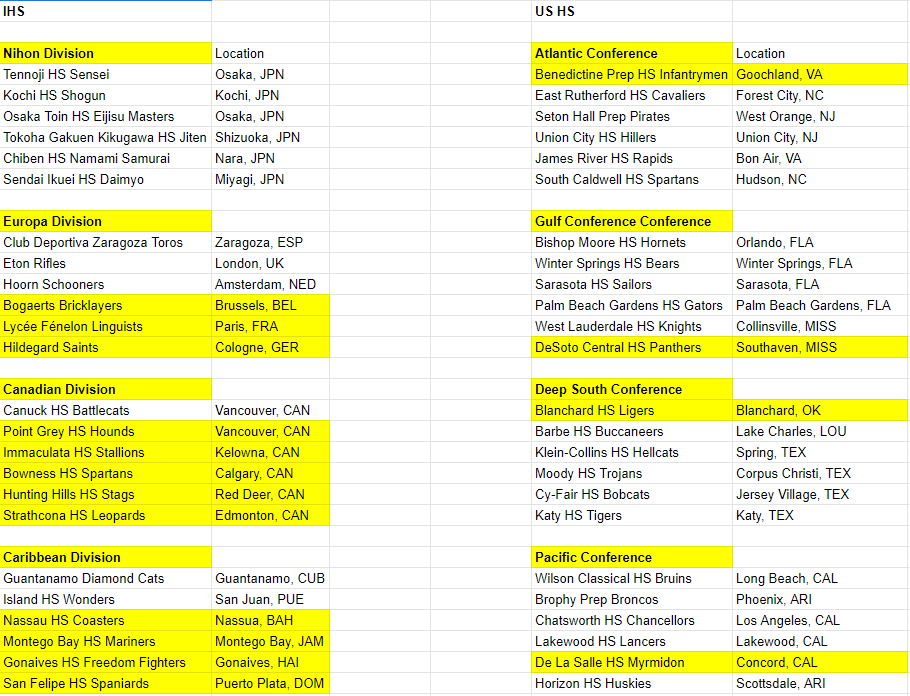 Please claim your locations in this thread, mascots, logos, etc should be sent to Mike and via PM or Slack
As I mentioned earlier, it is first come first serve, all of which will be tracked here:
Hanguk League:
1. Muju Naturalists (Toyama)
2. Suwon Morning Swords (Duluth)
3. Daegu Dragons (Neo-Tokyo)
4.
5.
6.
Tasman League
1. Melbourne, AUS (Canton)
2. Sunshine Coast Crocodile Hunters, AUS (London)
3. Wagga Wagga Crows (AUS) (Okinawa)
4. Sydney (North), Australia (Kalamazoo)
5. Tauranga, NZ (Havana)
6. Auckland, NZ (Fargo)
7. Brisbane Stevedores (Reno)
8.
Red Sea League
1. Mogadishu Pirates (Crystal Lake)
2. Khartoum Raiders (Scottish)
3. Cairo Pharaohs (Arlington)
4. TBD (Palm Springs)
5.
6.
Paradise League
1. Montserrat Mystique (Aurora)
2. Bridgetown, Barbados Flying Fish (New Orleans)
3. Oranjestad, Aruba (West Virginia)
4. Charlotte Amalie Batey, US Virgin Islands (Yuma)
5. Punta Cana Mamajuanas (Bakersfield)
6. Santo Domingo Decepticanos (Shin Seiki)
7. Port Royal, Jamaica (San Juan)
8. Puerta Plata Pacos (Amsterdam)