Claymores Flashback: Aug. 6-12
Although Scotland put together another winning week (4-2), it actually lost half a game to Havana and San Juan, both of which went 5-2.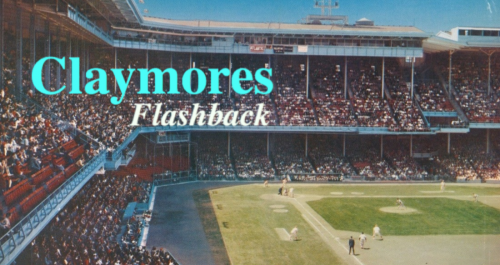 This division is a killer.
In fact, top to bottom, the Trans Atlantic is the toughest division in the PEBA. Yes, even tougher than the Rising Sun. The Trans Atlantic's overall winning percentage is .548, while the Rising Sun's is .541.
Yes, those top three teams in the R.S. are all tough as nails (Neo Tokyo 76-43; Shin Seiki 69-48; Okinawa 64-53), but poor Toyama is suffering through a dismal (47-73) season.
The T.A. has no easy outs, though. London, the last place team, is just 4 games under .500, and has been scorching hot of late. Amsterdam has been flirting with .500 all season, and currently is 58-61. Havana and San Juan? Tough, tough, tough.
So there can be no coasting if the Claymores want to make the postseason – every win will be crucial and every loss costly.
Don't touch that dial!
Top Hitter
Naomi Honma, SS:
.333/.407/.667, 8 H, 2 2Bs, 2 HRs, 7 RBIs, 3 SB, 1.074 OPS
Top Pitcher
Francisco Robles, SP:
1-0, 8.1 IP, 1 HA, 0 R, 3 Ks, 0 BBs, 0.00 ERA
News and Notes
Despite the Front Office hand wringing, Vegas doesn't appear to have many doubts about whether Scotland will be a playoff team in 2029. The odds makers currently put the Claymores' chances at 99.9 percent: 20.3 percent to wrest the division away from Havana, and 79.6 percent to take a wild card spot. They peg the Leones' odds for the post season at 100 percent, and San Juan's at 89.7 percent … OF
José Guillén
has come off the Injured List and is rehabbing his strained hamstring at AAA Aberdeen. The rehab stint is expected to last about 20 days … SP
Roger Keller
has 6 more days on the IL for his hamstring issue, and then will head to Aberdeen for rehab, as well. He could return around mid-September, if all goes well.
IL Trans Atlantic Division Standings
As of the morning of Aug. 13, 2029
|Team...........|W | L | W % |GB |RD |
|Havana|.......|75|45|.625| -- |+116|
|Scotland|.....|68|49|.581| 5.0 |+102|
|San Juan......|67|52|.563| 7.5|+35|
|Amsterdam..|58|61|.487|16.5|-25|
|London........|57|61|.483|17.0|-20|
IL Wild Card Standings
As of the morning of Aug. 13, 2029
|Team...........|W | L | W % |GB |
|Scotland|.....|68|49|.581|+2.0|
|San Juan|.....|67|52|.581| ---|
|Arlington.....|58|59|.496| 8.0|
|New Orleans|59|60|.496| 8.0|
|Amsterdam..|58|61|.487| 9.0|
|Kentucky......|57|60|.487| 9.0|
|Hartford.......|57|61|.483| 9.5|
|London.........|57|61|.483| 9.5|
Fresh From The Farm
AAA
Aberdeen
pieced together a 4-3 record last week, to inch closer to the .500 mark on the year. The Golden Sands are now 59-61, in 4th Place in the AML Europe and Islands Division and 2.5 games behind 1st Place Eindhoven … RF
Marcos Uribe
has been hot lately, hitting .393 with 3 HRs over his last 9 games … AA
Inverness
also had a 4-3 week, bringing its record to 69-51. The Highlanders are in 2nd Place in the ATAL Euro-Caribbean Division, 3.5 games behind Port-au-Prince …
Juan Carlos López
has been effective out of the bullpen this past month, with a 0.75 ERA and 4 saves in his last 20 appearances … A-level
Govan
struggled with a 2-4 week, dropping to 48-59 on the season. The Shipbuilders are in 4th Place, 22.5 games behind division leading Kingston … Long reliever
Vance Taylor
has had an especially rough August, going 0-1 with a 10.45 ERA over his last 6 appearances … Short Season affiliate
Maui
went 4-3 last week to climb back to the .500 on the year, at 27-27. The Mahi-Mahi are in 4th Place in the HL Archipelago Division, 15.5 games behind Kauai … CF
Tony Barrón
has been raking over the past week, hitting .478 with 2 home runs in has last 6 games.