Claymores Flashback: July 30-Aug. 5, 2029
After two weeks of backsliding and treading water, the Claymores finally broke out of their offensive slumber and put together a winning stretch to bring their record back to 17 games over .500.
Last week's 5-1 surge was powered by C
Jason Aaron
(.471/.474/.1000) and DH
Yosuke Imai
(.391/.500/.913).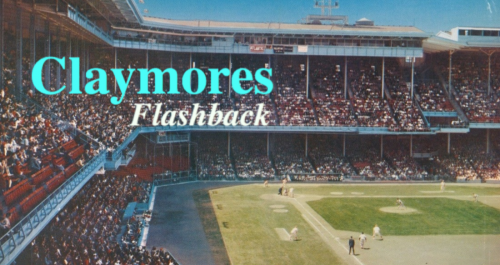 Aaron, who's had a quiet season so far, erupted for 3 homers and 8 RBIs to bring his season stat line to .243/.269/.382 with 11 HRs and 30 RBIs.
Imai, meanwhile, has benefitted from increased playing time with OF
José Guillén
on the shelf with a hamstring injury. The 36-year-old is now slashing .275/.348/.426 on the season, with 10 HRs and 34 RBIs.
Guillén is now a week away from coming off the IL and likely will go to AAA Aberdeen for a rehab stint, putting his likely return date somewhere in late August.
Scotland will have an interesting decision to make then: will Guillén go back to left field, moving Vince Powell to DH and Imai back to lineup limbo? Or will Guillén get reduced playing time to give Imai more at-bats? The question will come at a critical time in the schedule, with Scotland playing Trans Atlantic Division rival Havana seven times in late August and early September.
With the Claymores 5 games behind the Leones in the division standings, and leading a 9-team scramble for the two IL Wildcard slots, the road ahead is about to get interesting.
Top Hitter
Jason Aaron, C
: .471/.474/.1000, 3 HRs, 8 RBIs, 3 R, 1.474 OPS
Top Pitcher
Allen Guthrie, SP:
1 GS, 8.0 IP, 1-0, 7 HA, 2 R, 2.25 ERA, 1 BB, 9 Ks
News and Notes
OF/DH
Vincent Powell
put together the best month of his career in July. He made the All-Star Game for the first time, and followed that up last week by snagging the
Imperial League Batter of the Month Award
. It was the first league-wide award of his career – and well-earned. He batted .363 for July, with 12 homers, 30 RBIs and 19 runs scored. For the season now, he is slashing .300/.406/.626 with 26 homers, 68 RBIs and 4.1 WAR … Although DH
Yosuke Imai
is not known as a power hitter, he sure looked like one last week. Among his 4 homers during the stretch was a grand slam against New Orleans on
Aug. 3
… The next night,
Aug. 4
, the Claymores got a little help from Trendsetters' starter
Hisashi Kokan
, who tied the all-time New Orleans team record by issuing 9 walks in his 4.2 innings on the mound.
Trans Atlantic Division Standings
As of the morning of Aug. 6, 2029
|Team...........|W | L | W % |GB |RD |
|Havana|.......|70|43|.619| -- |+90|
|Scotland|.....|64|47|.577| 5.0|+89|
|San Juan......|62|50|.554| 7.5|+25|
|Amsterdam..|56|56|.500|13.5|-20|
|London........|51|60|.459|18.0|-36|
IL Wild Card Standings
As of the morning of Aug. 6, 2029
|Team...........|W | L | W % |GB |
|Scotland|.....|64|47|.577|+2.5|
|San Juan|.....|62|50|.554| ---|
|Amsterdam..|56|56|.500| 6.0|
|Arlington.....|55|56|.495| 6.5|
|Kentucky.....|54|56|.491| 7.0|
|Hartford......|52|59|.468| 9.5|
|Charleston..|51|59|.464|10.0|
|London.......|51|60|.459|10.5|
Fresh From the Farm
AAA
Aberdeen
stumbled to a 2-4 record last week, dropping to 55-58 on the season. The Golden Sands are in 4th place in the competitive AML Europe and Islands Division, 3.5 games behind 1st place Eindhoven … 2B
Manny Rivera
had a strong week, going 8-20 over his last 6 games. That's a .400 BA with 2 HRs and 6 RBIs … AA
Inverness
went 4-3 last week to lift its season record to 65-48. The Highlanders are in 2nd place in the ATAL Euro-Caribbean Division, trailing Port-au-Prince by 3.5 games … SP
Jerry Pearson
has pitched well of late. Over his last 3 starts, he's 1-0 with a 0.49 ERA in 18.1 IP with 20 Ks. Pearson was last season's Minor League Pitcher of the Year for the Claymores franchise …
Govan
, the Claymores' single A affiliate, played one of its better stretches of ball last week, going 5-2. The Shipbuilders are now 46-55 on the season, in 4th place in AWL Intercontinental Division, 20.5 games behind 1st place Kingston … SP
Takanobu Takaki
had an excellent week, with one complete game shutout followed by 8.0 innings of shutout ball in his next start. In his last 2 starts, then, he has pitched 17 innings, allowing 0 runs and striking out 11 … Short Season A-level affiliate
Maui
went 2-3 in a shortened schedule to make room for the
Surf and Snow Amalgamation All-Star Game on July 30
. The Mahi-Mahi dropped below .500, and now are 23-24 on the season. They are in 4th place in the HL Archipelago Division, 14.5 games behind Kauai …. Maui placed three players on the Hawaiian League All-Star squad. They were: RP
Octávio Torres
; SS
Johnny Andrews
; and CF
Jiro Murase
. Torres pitched 1 inning, allowing 1 single and no runs with no walks or strikeouts; Andrews played the full game at shortstop, going 0-2 with 1 walk and 1 run scored; and Murase also played the full game, alternating between CF and RF. He went 0-3 with 1 walk and 2 Ks.