San Juan Free Agent Bonilla a Mystery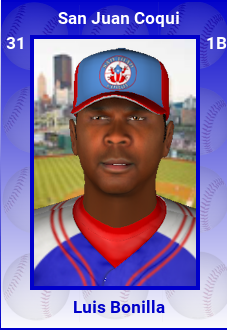 The city Luis Bonilla was born in – Puente Alto, Chile, population roughly a half million – features one sports attraction according to Wikipedia: A 1,900-seat stadium, mostly geared for soccer, with a perk of…yes, wait for it…four bathrooms.
Baseball in Chile is semi-pro at best and statistics are hard to come by for Bonilla who will make his pro debut at age 30 with the Coqui this season. San Juan scouts relied mostly on anecdotes, tales and legends about Bonilla, some possibly true, a few doubtful. Such as the time he was doing a marketing photo shoot on the salt flats of Nevada Tres Cruces National Park and hit a ball that got lost in the horizon. A few minutes later some claim nearby Ojos Del Salado, the highest active volcano in the world, spewed ash.
"Si, Senior. He can hit the ball far," several of Bonilla's countrymen told Coqui scout Robert Franklin when he visited. It wasn't long though before Franklin realized Bonilla's agent was doling out 500 peso bills to a few of them. Nonetheless, Franklin was impressed by what he saw in the six-foot, two-inch, 235-pound first baseman. "I am not as bullish about his ability to hit for average as some of the preliminary scouting reports indicated," he said. "But the power is obviously elite and he has a good eye and makes good contact. He indeed can hit the ball far."
San Juan General Manager Mike Best agreed and signed Bonilla to a four-year deal worth $59 million.
Bonilla enters the PEBA this season with two other Chileans, both pitchers, who have never played ball at a notable pro level: 33-year old Roberto Carrión, who signed with Palm Springs, and 25-year old Manual Gonzales, who signed with West Virginia. The other 12 Chilean-born ballplayers who are currently playing pro at some level left Chile to do so as teenagers.
Bonilla's last time making news internationally as a baseball player came when he was just nine years old. He was among the first Chileans to play Little League when the U.S Ambassador brought the organization to the country in 2005.
However, baseball was virtually dead in the country until unrest in Venezuela in the 2010s brought an influx of players to salvage it. Due to uncertainty of the competition, however, no one quite knows whether Bonilla is the real deal or a destined to go down as a con job.
"He has a great baseball name," said one fan in line to buy season tickets last week, likely referencing Bobby Bonilla, a Puerto Rican raised in the Bronx. "He's worth the risk as this team has little hope otherwise," said another.
San Juan is hoping Bonilla can end the team's long search for a cleanup hitter. Since moving to Puerto Rico, the only run producer that came close was Richie Norman, a solid hitter but one who has been passed on in free agency more than once in his career.