Spring Intros and Intrigue for Borealis
Updated: October 13, 2017
Spring Intros and Intrigue for Borealis
Ray D. Enzé, NLN baseball blogger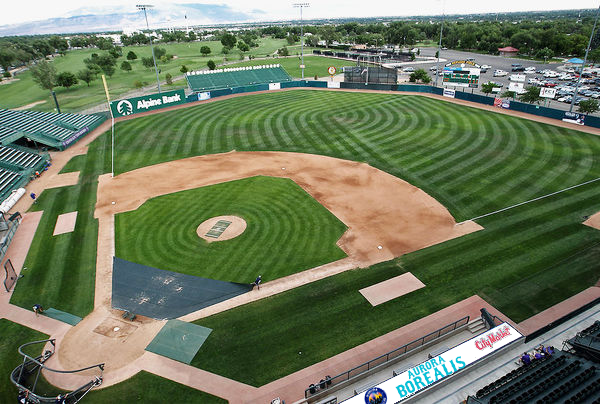 March 23, 2026: Grand Junction, Colorado – Spring games have begun and as is the case, one can read what they like from the results, and as such, Aurora's 7-6 start is meaningless. What (may have) has meaning is the play of newcomers and youngsters as the Borealis say 'Howdy' to the likes of Tomás Flores, Clark Snow, and the 'Doberman' and analyze the development of 'Fudd', 'Fido', and José Torres.
Starting Pitching

Thus far the Starting pitching has been the rage over the first half of spring training – then again, this may be the classic 'pitching is ahead of the hitting' scenario. Mike Provost has allowed 2 runs over his 12 IP, with 10 K and 0 BB – looking like he's already in mid-season form. Ditto 'Tugboat', who makes his 3rd start today v. Okinawa. Positive signs are showing for Carlos Rivera, who came in the 'Massacre' deal the first week of last season. His virtual 4.00 ERA and 29 HRs belayed his inconsistency in 2025, but in two spring starts has yet to give up a run. The other starter on staff now with ties to Holland, Clark Snow, looks as if he, too, will meet expectations, with a pair of runs and 9 K in his two starts.
While the four men above all come with established, if not all with Hall of Fame numbers, the fifth spot is slightly up for grabs. The expectation was that after dealing both Romano and Perkins, Edgardo 'Terror' Díaz would begin 2026 as the 5th starter (after a AAA season in which he was the Outstanding Pitcher of the year (14-4, 1.47) , and his 1 ER allowed in two starts is a positive, though his 5 BB in 8 IP makes one cringe some. Pitching in the 6th spot of a spring rotation is, ironically, Dutchmen Lando Lagerveld, who has struggled off and on in his 36 Big League appearances. He posted a 4.27 ERA in 31 relief appearances last year, but his 2:1 K:BB ratio didn't endear him to Aurora Pitching Coach Thomas Williams. He's made two spring starts and although the control may or may not be under control, he seems improved.
Prediction: There really is very little mystery when it comes to the pitching, period, and that certainly is the case here. Lando and 'Terror' will likely both open the year on the roster (barring a trade), and I suspect Díaz will be the 5th starter – as was anticipated when he was Aurora's first Contraction selection.
Bullpen

So work backwards as you fill your bullpen spots – and there are 7 to be filled. The 'End Game' consists of 'Javelin', 'Doberman', 'Stork' and John Gray (who seems to have missed that nickname memo). Each of these guys have looked mostly sharp. Peterson and Contreras have reached thrown 4 innings, with 'Doberman' allowing a run. Gray has a 'pen high 9 IP and has allowed just a run, while Holbrook has allowed a pair in 5 innings. Aside from Gray's 3 BB (and 10 K), none of this group has walked more than 1. This group is older – Holbrook is 36, Contreras 33, Peterson 32 – only Gray, who turns 29 later this week, is under 30.
The 5th slot will go to the Díaz/Lagerveld 'loser' – although for technicality purposes, Díaz does have 2 options left, while Lando has none. That leaves two spots for Felix Peña (no options), Ron Latour (1 option) and new arrival Pedro Vega (acquired from Kentucky for a 7th round pick, and carrying 2 options). This group is young – Latour is the oldest at 27, and it would seem logical that they are going to be around a few more years. Felix, for reasons unclear, has had just an inning thus far, and Vega has looked solid with no runs in 5 IP.
Of note, Tomás Moya – who raised eyebrows with his 2.60 ERA and 36 saves at Thornton last year, has allowed 2-runs in his 3.2 IP, but more importantly has 6 K and a walk in his spring work. Also surprising is Yoriyoshi Ito – signed as a minor league free agent two seasons ago, most notably having served in the Kure farm system of the old LRS, who had a 1.88 ERA in 56 appearances last year (48 with Gatineau and 8 with Thornton), has thrown 8 spring innings without allowing an earned run. Both of these young men have a pair of options left and certainly will return to AAA soon.
Prediction: Vega, with three PEBA level appearances under his belt, will begin 2026 at Thornton, along with Ito and Moya. Vega will be the first guy called should injury, trade or flat out collapse occur.
Catcher

27-year old Luis Villanueva will have to hit .400 all spring to avoid a ticket back to Thornton – especially if the expected starter, 'Fido' Castro continues to hit .067. This was supposed to be the year that Castro and Domingo Gutiérrez battle it out for the starter and back-up roles – one drafted in the first round to be the starter and the other in the Contraction draft to be the back-up – and both equally talented behind the plate and besides the plate. Thus far it's Gutiérrez taking the bull by the horns and unless Castro makes a sudden push he might even find himself in an unexpected spot – back at AAA.
Prediction: Aurora didn't let Negrete and Butler freely walk away this offseason for no reason, so the pressure is definitely on 'Fido' and Domingo. It's hard to imagine Aurora not starting the year with that pair – and perhaps even sharing the starting duty more so than they had expected to.
Infield

With 6 available spots, some are a given. Mike Britt needn't worry about his .115 spring average – and maybe he shouldn't be so stressed about his 2027 contract status either (word is he's suddenly moved from willing to talk extension to wanting to walk at season's end). Theron Boswell showed he was worth the free agent investment last year – but Aurora will need more than his spring .208. He needn't worry either, as Pablo Medrano needn't worry. Sure his 2025 numbers weren't spectacular, but he provided just enough – particularly in the clutch.
So one of the questions about the infield centers on two long-standing members of the team – SS Nick Giles and middle infielder Gabe McIntyre. Giles, the starting SS in Aurora since the start of the championship run in 2019, has had difficulties staying healthy, and Aurora, apparently, has floated his name out there as trade bait after a pair of sub-par seasons. He also has passed through waivers – though I'd suspect he would not be pleased at the thought of a demotion. Giles is potentially in the last year of his contract – there are two team options left (fat chance there), so it's a contract push year for him (and in the past, those have been plus years for Nick) and his .353 spring average suggests just that. McIntyre had shown great promise when he first came on the scene, but has seen his production (and playing time) diminish over time. His spring average of .313 may save him a job – as well as his stellar infield play and versatility – a cherished commodity on The Front Range.
Guys this spring we can dismiss? Rod Martin, who will be DFA'd, again (as we writing this, we have gotten word of this move) and end up in AAA. Freddy Brooks, who has that defensive style of McIntyre, but doesn't look like he'll ever catch on with Aurora – though he's still young, and 2B Charles Duncan, whose minor league success has been a mixed bag, both are being sent to minor league camp for the remainder of spring training.
That leaves Aurora with three minor leaguers in camp for the last infield spot – and one of which has plenty of experience and likely will stay – Teddy Loetzsch. Teddy is hitting .290 and is the perfect back-up – great defense around the horn (though he's 'first-a-phobic'). He hit .266 two years ago, showing his promise, but last year – split between Aurora and Thornton was more of a disaster for him. With Harley Schneider shipped off to Duluth (and let's not look at those spring HR numbers for Harley – groan), the last infield spot is Teddy's to lose. 2B Jorge Díaz may be on the brink – his .533 spring average is second best on the club, after a fine season at AAA where he hit .293 in 2025. Another solid season at AAA and he may be the story of Spring Training 2027. Lastly is 1B José Torres, who put up big power numbers in his first full minor league season – mostly at Gatineau, where he hit 19 HR. This spring he's hitting .273 in limited action.
Prediction: No matter how high or with as much power Díaz and Torres may hit, Loetzsch will be the 6th infielder, and unless a move is made involving an established vet (read that McIntyre, Medrano or Giles), this infield is set.
Outfield
If we thrown DH Pedro Ferringo into this category, this has been kind of the heart of the Aurora offense. In 2025, Pope, Carlisle and Ferringo combined to hit .311, with 87-2B, 40 HR (24 by Carlisle), score 270 runs and drive in 214. All three signed contract extensions over the offseason and are going nowhere – even with Carlisle hitting .200 and Ferringo .244 this spring. Pope has a .421 spring average, but has a balky hammie that'll reduce the rest of the spring play for him.
Also not going anywhere is Tomás Flores, brought in to take over CF in the wake of Mike Hale's departure to Cuba. After a pair of solid freshmen and sophomore seasons at Duluth, Flores brings tremendous defense, speed, and perhaps a bit more pop than Hale provided – and his team leading 3 HR – and .560 average this spring suggest this may be an excellent fit.
Like the infield, the outfield has only one opening – and the leading candidate is one with experience – Lawrence Justice. In his three stints with Aurora over the past three years he has hit over .290 each time. He hasn't had as many ABs as you might have expected, but the Borealis are getting a feel for a few other outfielders – specifically Chandler Wright, Joe Harris, Nick Heath and expected future star 'Fudd' Martínez. Harris and Heath, not expected to make the team at this point – with Heath expected to be demoted later today and Harris hanging on by virtue of his .250 spring average (compared to Heath's .111). Chandler Wright has an outside chance, hitting .278 thus far this spring. Wright is out of options and in his late 20's. Making it tough for the above candidates for the 5th spot is 'Fudd', who after a stellar season in 2025 (.394, 15 HR at AA and .273, 16 HR at AAA) is hitting .368 this spring. Aurora knew this was a key point for 'Fudd' – and as expected, he's pushing the envelope.
Prediction: Expect Justice to take the job out of spring training, so that Martínez can get constant ABs that he otherwise won't see.
Season Expectations
Both the folks at StatsLab and OSA – the major scouting and baseball databases, expect the Borealis to once again win the Desert Hills, and there seems little reason to expect otherwise – all things being equal. The SL looks like it may be a repeat of 2025 – Throw the main arms of the Evil Empires into a hat and draw a name and that's who will play the IL's best – be it the clearly the better team Alleghenies, or the defending champion F-heads. One thing for sure, there are some interesting stories afoot this year for the Borealis.