Let me sleep on it …..
November 18th, 2021
It was late evening now and I had retired to my room still wading through the documents that the beautiful woman ( HM's secretary? Partner? Wife?) had delivered. It was looking less and less likely that I was going to look around Boston, sure I could have dumped the paperwork and gone out for a stroll as well as a few drinks but I was fascinated by what they were proposing. The PEBA had just gone through the upheaval of the merger with the LRS and it was still being analysed how the changes & new markets reached would affect the long term viability of the league. Yet here was a packet of documents that was clearly pointing the way to more changes, I just had to put all the pieces together and find the solution to the unasked question.
What had New Bedford, a city in Bristol County, got in common with Marseille, the second largest City in France? Fish? Both were traditional fishing ports but does that lead you to write about ways & means of financing a team in the PEBA? Where did HM fit in to this? Did he order or request these documents, Is he a go-between or a Mr Fix-it? Is he an agent of the PEBA or an antagonist? The newspaper cuttings came from local papers all over Massachusetts mostly about fan reaction to failing PEBA teams and the consequences of it as well as table after table for finance plotted against attendance, against corporate support and against Government support? What was I being told? What was I being asked? My head was being filled with all these facts, figures & unanswered questions … and I didn't even noticed as my head hit the pillow and my eyes closed.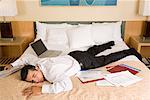 Next morning I awoke early lying on all the paperwork and with the lights still on. I took a long shower and tried to clear my head of the fuzziness that clung to it, obviously not helped by the four empty wine bottles I had noted on the way to the bathroom. Sat in my dressing gown on the suite's large sofa I tried not to even glance at the scattered paperwork. It posed too many questions and I didn't know that I was prepared to consider them until I'd feasted on a full breakfast. I rang the reception and asked them to send a full English to the suite. As I was about to hang up the bright young voice on the other end informed me that my driver had just come in and told them that he was waiting outside to take me to my meeting, he said it was the all black limo in the directors bays to your left. I was a bit stunned by that and by the time I had gathered my wits enough to attempt a query of this, reception had hung up.
Meeting? With who? Was this my moment to find out who HM was? Whoever, they would have to wait while I breakfasted