New-look Badgers Seeking 2019 Turnaround
Updated: October 22, 2013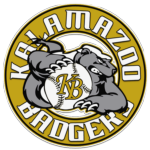 The Kalamazoo Badgers have a new owner,  a new look and a new attitude for 2019.
The franchise, which hasn't had a winning season since 2009 and hasn't made the playoffs since 2007, hope the on-field results show similar change. Thus far it's so far, so good, with the team charging out to a 3-0 start and remaining the only unbeaten team in the PEBA.
Don O'Quinn took over ownership of Kalamazoo after last season and the 55-year-old Kansas native is happy about the early on-field results, but he made his first order of business with the club to rebrand the Badgers.
"Listen, if my tenure as owner of the Kalamazoo Badgers ends up standing for nothing else, let it stand for the fact that I was the guy who got this team out of those puke-green coloured uniforms," said O'Quinn, who has already garnered a reputation amongst local media for being honest and forthcoming with information and always up for a good quote.
"We obviously want to keep winning  on the field, but if we lose, at least now we'll look good out there doing it."
O'Quinn is a real estate mogul whose company O'Quinn Realty Holdings is the largest firm in the state of Kansas. With a reported net worth in the tens of millions of dollars, there's no shortage of financial resources for O'Quinn, but he has also made no secret about what type of owner he intends to be.
"Hey listen, it's my money, so we're going to do things my way. I'm not going to be the type of owner that checks in once or twice a year and lets the GM run everything. I consider myself pretty knowledgeable on the baseball side of things too, so I'm going to have a constant dialogue with the GM," he said. "You might even call me the assistant GM," he added with a grin.
The details behind former owner Harry Bell's sale of the team, and O'Quinn's subsequent purchase, have been sparse. Upon sale of the team, Bell simply issued a press release saying he has "enjoyed his time in Kalamazoo, but it's time to move on to a new chapter in his life."
True to form, in his introductory press conference, O'Quinn was personable and bubbly with the media, joking that "Bakersfield wasn't for sale, so I figured I'd buy Kalamazoo instead."
The Badgers front office, under O'Quinn's direction, has also gone about rebranding the team that has taken the field in 2019, with the team's opening day roster featuring seven new organizational additions to the 25-man roster.
Chief amongst them are free agent signees Chris Allen and Larry Martin, who are expected to bolster a rapidly-improving Kalamazoo offence. Allen, a left fielder signed to a one-year $13.4-million deal, hit .276/.371/.450 last year for the Fargo Dinosaurs, while swatting 24 home runs.
Martin is also signed to a one-year pact, at $5.6 million, coming off a year in which he reached base at a .403 clip  last season with the West Virgina Allegheni
es.
On the pitching side, Kalamazoo's biggest offseason acquisition was Álex 'Tapper' Martínez. He received a four-year, $43.2 million dollar deal, coming off a year, his first full season in the PEBA, in which he posted a 14-6 win-loss record with Tempe Knights, with a 3.68 ERA.
Juan 'Rattler' Romero, is also expected to be a key back-end of the bullpen acquisition, joining the team on a three-year, $17.9 million pact, after posting a 1.47 ERA through 73.2 innings last season with the Bakersfield Bears.
Pat Green also presents a bit of a reclamation project for Kalamazoo. The 29-year-old righty has had a solid career, but battled injuries in what was a down year in 2018. He signed a three-year, $14.3-million deal with the Badgers and will be looking to return to the form that has brought him a career ERA of 3.69.
The team was also briefly in on larger free agents targets like Ronald Harmon and Rafael 'Bingo' Suárez but in the end opted for some of the lower-risk financial targets.
"I don't think we're really in a place where it makes a lot of sense to be spending $20-million a year on one player. Maybe if we were that one player away from winning a championship we'd open the purse strings, but I think we've got a good chance with the team we've put together here, and we're not financially hamstrung if it doesn't work out either," O'Quinn said.
It remains to be seen how the Badgers will do on the field in the long term, as preseason predictions have had Kalamazoo anywhere from sixth place – a familiar position for the team – to as high as third.
There's no shortage of confidence in the team's dressing room, however.
"I think this is the best team there's been in Kalamazoo in a long time," said new signee Allen prior to the start of the season. "Our lineup has a lot of threats in it and it's just a matter of having good pitching and good D and getting out there and getting it done. I think we're going to surprise a lot of people. Our goal is the playoffs."
While new additions to the team will undoubtedly play a key role in the 2019 Kalamazoo success, it is some returning Badgers who will ultimately dictate the team's fortunes.
Outfielder Héctor García had a breakout campaign last season with 15 homeruns and a .296/.398/481 slash line and he's expected to continue to contribute this season. Gil Sterling, Manny Womack, Lorenzo Amador and Bill Meade will also be counted on for big seasons, as they continue to gain more experience in PEBA.
One returning player feeling pressure to perform is defensive wizard Derrek Lollar. He is in his third season with the club and has provided stellar defensive play, but hasn't yet reached his offensive potential.
The new team owner certainly made a quick impression on Lollar, perhaps painting the way for the kind of leadership he will be providing.
"(O'Quinn) introduced himself during spring training and said 'nice to meet you,' then he told me 'you need to get on base more this season,'" Lollar said with a laugh. "You know, he's right. But I've never heard a team owner be so blunt before."
When asked about the conversation afterwards, O'Quinn wasn't coy about his response.
"I'm blunt and there's no two ways around it. Derrek is a tremendous defensive player, probably one of the best in the entire league. But we want him to hit too. He had 16 homeruns last year which was great, but we'd love to see him work a few more walks, maybe hit for a better average," O'Quinn said. "I'm not afraid to tell it like it is. We expect a lot from our players."
Needless to say, the tone has been set for the 2019 Kalamazoo Badgers. A lot of things will have to go right for the club to be in playoff contention come September, but with a new season comes renewed hope and optimism. At the very least, the Badgers will have a new look, but it remains to be seen if that will translate to more wins.
"We're still on pace for a 162-0 season, so all is right with the world," deadpanned O'Quinn. "It must be the new jerseys."